Wow how easy is the new uploading doobry! Love it!
I have put some of these on FB, so apologies to those who've seen them already. They've all jumped out of order, but I think you'll be able to spot those which use the same paper ranges.
SIL and 'nephew' at cousin's 50th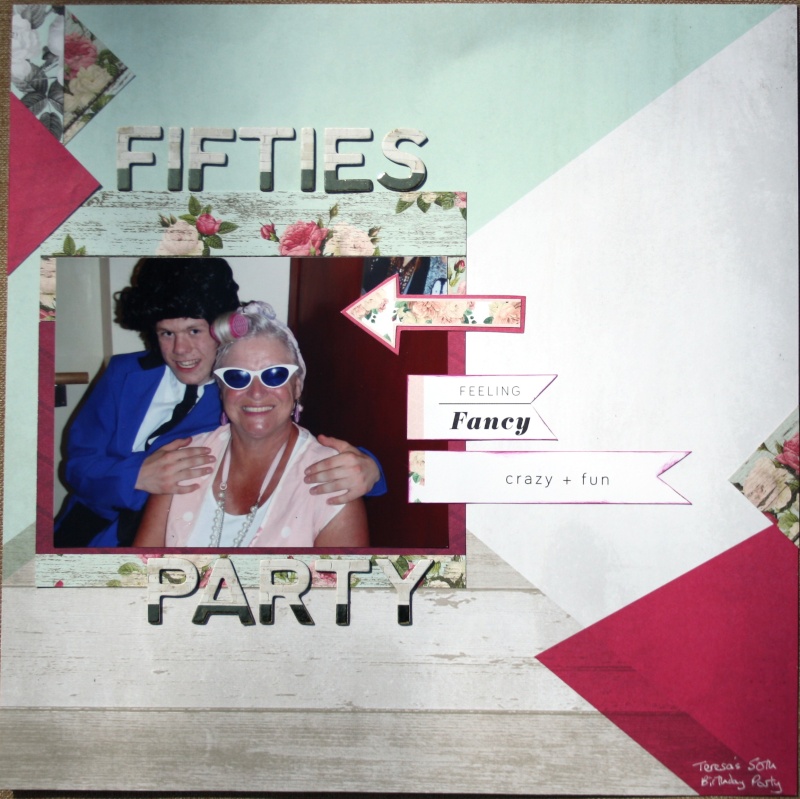 Jake and Paige's house to be, it all seems to be going through OK The strip up the side is preprinted so I added the bit with the key on and everything diagonally across to the bottom, the 'polaroid' pic is on the BP. Loved the colours on these papers; Bo Bunny Beautiful Dreamer
Meal for Evan's Grad and Jake's b'day last year. I pinched an R from one of the other ladies to change the word 'Country' into curry, these would be a great set of papers for anyone farm/horsey, Maria :) Loving the denim one. Kaisercraft, Old Mac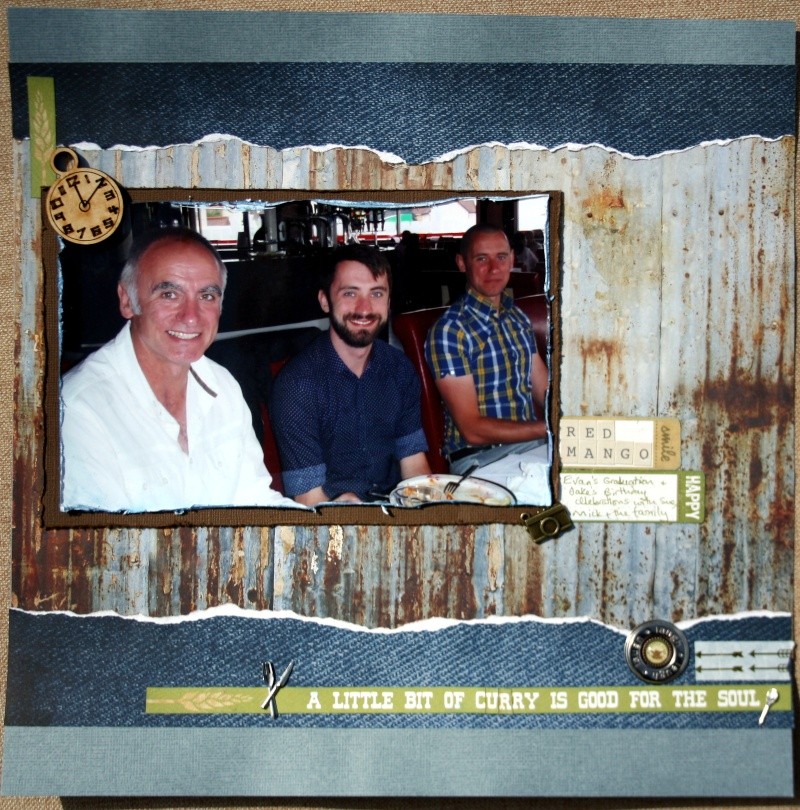 Bournemouth, football trip, a carved wooden giant outside a hotel, Mick's boss looks great with it. He's always saying 'rude not to' so that had to go on there. The copper foil tape is slug repellent stuff, cheaper from garden centres than craft shops.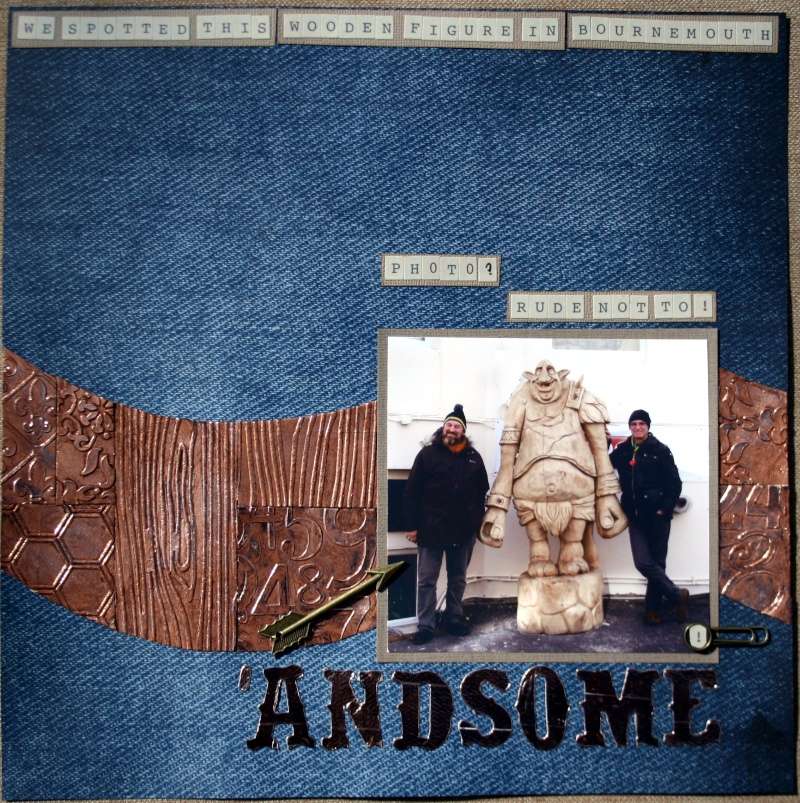 I was puttering about all the small sized pics they ask you to bring, but LO's like this are great for 'not great' photo's. Mick's b'day with his sis.
Cards, the tree was very therapeutic, can imagine doing another while watching tv, the leaves are hand cut but if you have a punch it would be quicker. The tutor liked the different depth foam tape I used. The Christmas rose one was a 'blending' make and take, the lady taking the group said just use water, it didn't think it would work on the Promarker pens, and it didn't so I went over it with watercolour pencils too.
Bournemouth, Mick's boss found a little pink fishing net in a fishing boat, these were also in the 'eclectic' collection and included a piece of paper with birds on that I don't think I saw anyone use, it was quite old fashioned  paintings and wasn't suitable for most people's photo themes.I left it off and put the sea shore piece on instead.
3 challenges complete here, LHS a retreat sketch and RHS; use a number as the title, which doubled up as the UKS weekly challenge; flowers, a sketch and use lace or ribbon, I was rather cheeky and used ric rac, but hopefully I'll have got away with that. There were 5 more points if you scrapped a new beginning but I wasn't cheeky enough to say he was beginning his 2nd half century LOL My middle brother Andy who lives nearby, with his kids and the first pic on the LHS LO is SIL and her kids and plus 1's.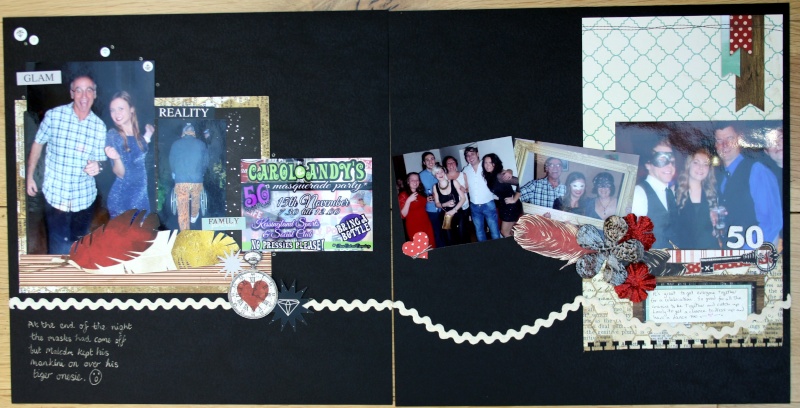 A football pic from the trek to
Swansea, not a bad selfie as my phone doesn't have a back to front thingy, so we turn it round and hope as we can't see what's going to be in the pic. Bo Bunny Believe papers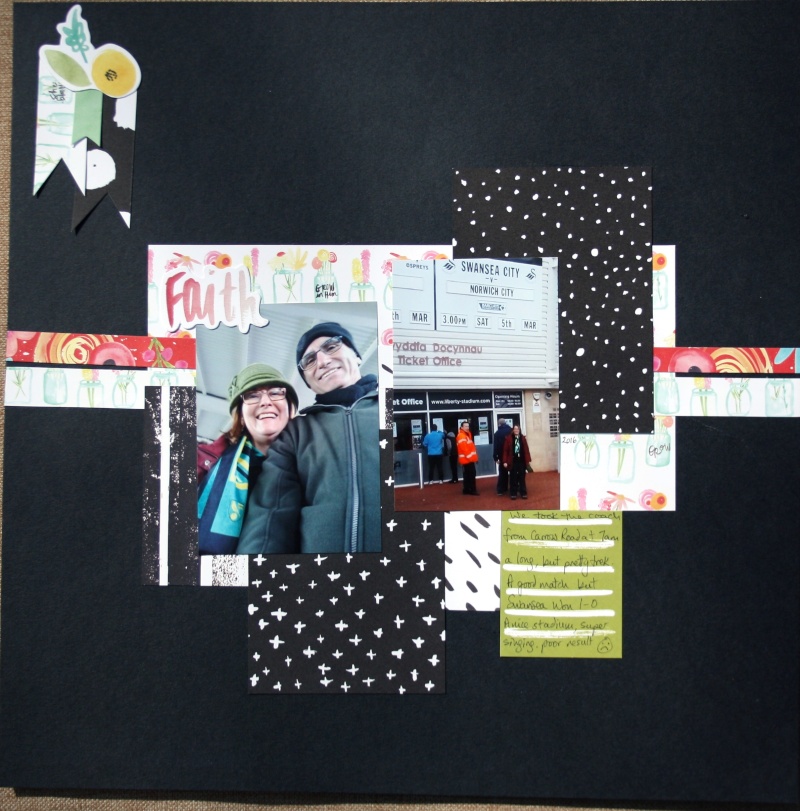 I like this one, the bike wasn't on the tutor's LO but they are both cyclists and it was in the pack of embellies so works well here, the bunting should have been stapled on, but I don't like staples so I threaded it on.
A fun one for scraps esp double sided bits. I rebelled and drew the circles as instructed then cut out a paper circle slightly smaller and stuck all my bits on that and trimmed round the edges after rather than try to trim the to fit inside the lines. Then I stuck that inon the BP with the circle lines on.
The tutor said she'd seen this technique used in a heart shape and it looked great. Pink Pasiley C'est La Vie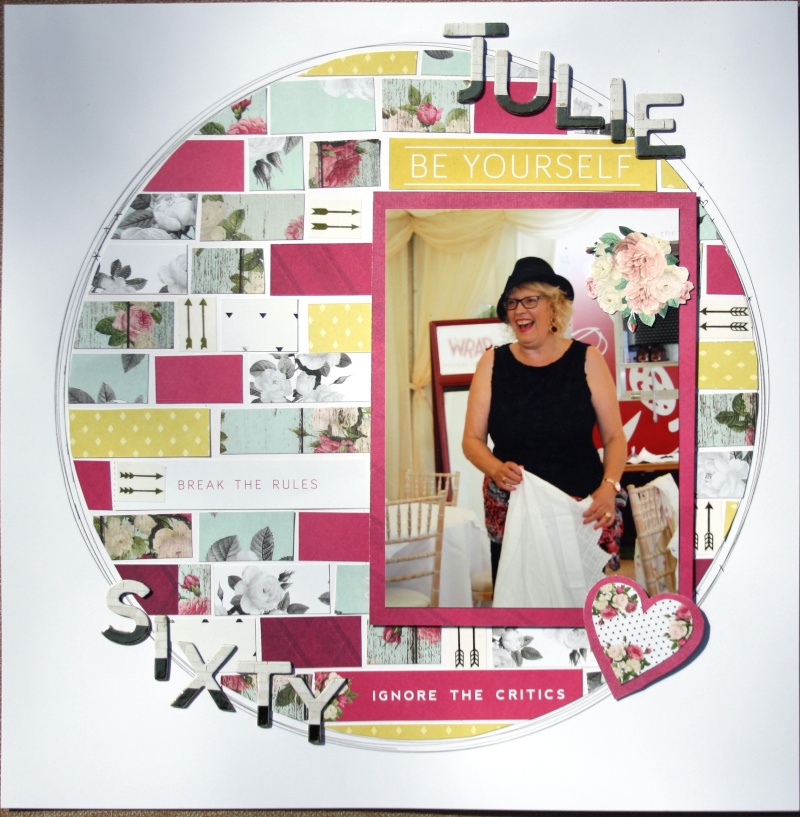 Corfu; this was a collection which seemed quite random, didn't seem to go together at all, but nice papers anyway Webster's Pages; Painted Passport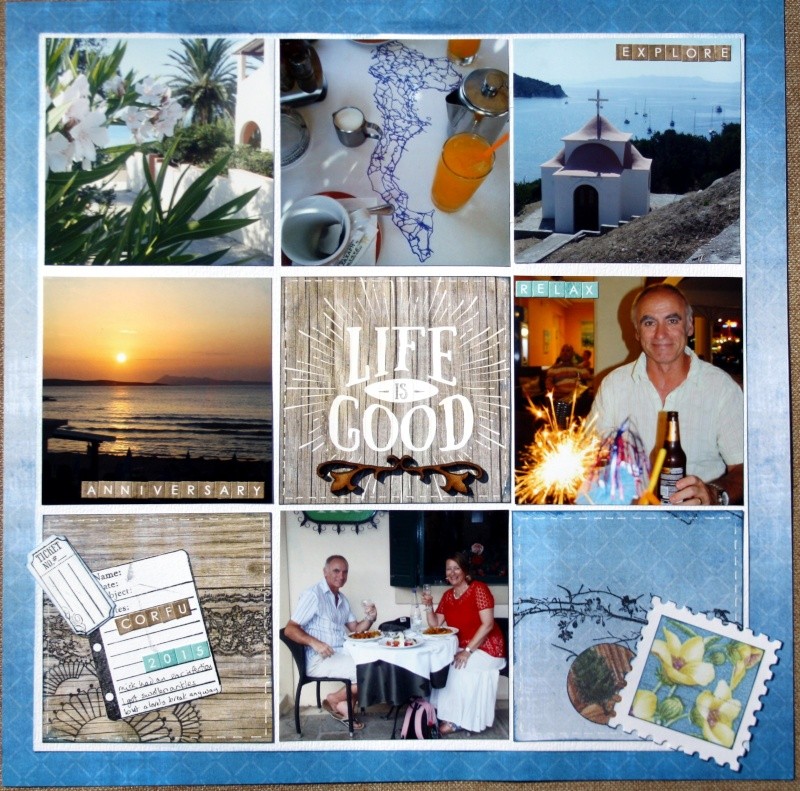 A retreat bingo challenge I used a sheet from the goody bag, geometric layout, use metal and a tag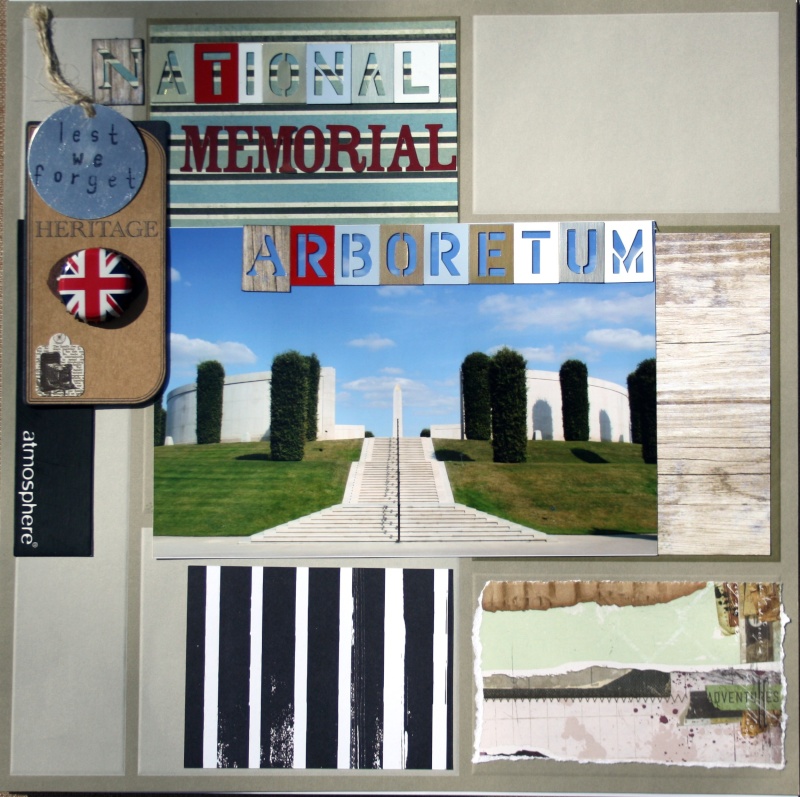 Bo Bunny Believe; I wouldn't have ever chosen these papers, far too bright and breezy for me, but I like Karen Moss' work and she uses tons of foam pads so much of this is raised. There are bible quotes on the papers but she didn't use any, I though they might come in handy so I've tried to keep some. The title words supplied were 'She Blooms' but I wanted Spring instead so I wrote it out and fussy cut it myself, I think it looks alright.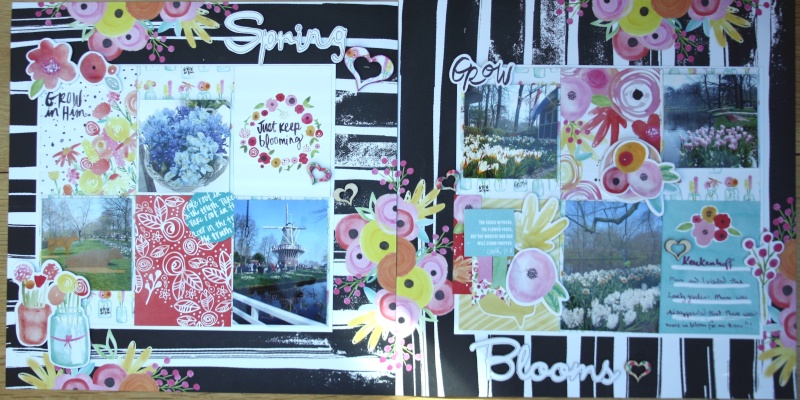 Some bits from the bonus kit and goody bag, carp photo's from the footie trip to Leicester, still haven't remembered what the pub was called. This is Chloe's BF, often has a hat on if his hair hasn't gone right!
Us at dress rehearsal, this is one of the Painted passport papers.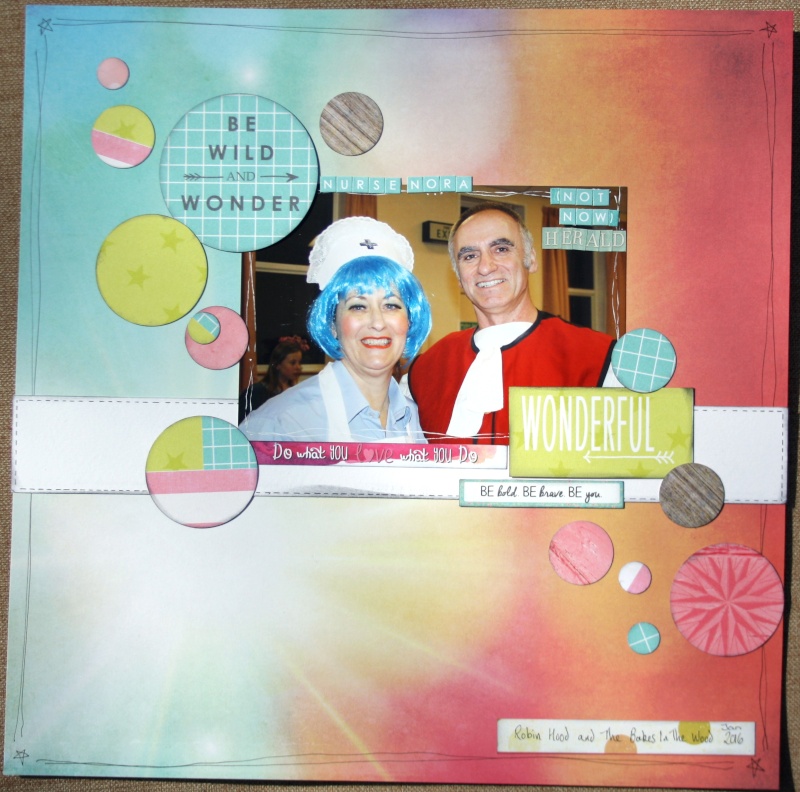 ***************************************
Creativity is messy and I am very creative.

thriftycrafter

Awesome Artist





Number of posts

: 12226


Age

: 58


Location

: Kessingland Suffolk


Registration date :

2008-08-30



aww this was lovely to see Karelyn, loving this work and you were soooo productive, wish I could have been there. Such lovely stuff youve done.

***************************************
shaken and stirred but still standing (most of the time)
Awesome layouts. You've done a great job.

Lorraine

Admin





Number of posts

: 16280


Age

: 64


Location

: On the road to nowhere......


Registration date :

2008-06-02



Fabulous layouts, amazed at how much you get done on these retreats.
Lovely cards too.

***************************************
Smile, and make everybody wonder what you've been up to.

Di Masters

Awesome Artist





Number of posts

: 15768


Age

: 64


Location

: very small plot in Dorset


Registration date :

2008-08-30



Wow Karelyn you were busy. lovely LO's.

cb

Awesome Artist





Number of posts

: 4405


Age

: 61


Registration date :

2008-08-30



Well Di it started at 1.15 on Friday and I left at about 4.30 Sunday, we started scrapping at 9am Sat and Sun and finished around midnight. So We do use the time, and of course most of them are classes, so there's no faffing about choosing papers and wondering what to do. I take longer than need be sometimes as I try to avoid cutting into fresh sheets of cards for small bits, so I got back to the cropping room to looks through my scraps box then rejoin the class. It is fun though and good to see other people's work and ideas. The other bonus is that there are lots of people with the same kit, there was a good bit of letter requesting/supplying when people needed another letter they'd run out of, you can't do that at home. It is expensive, but I do feel that I get my money's worth, it's not too far away and I can have a swim while I'm there too.

***************************************
Creativity is messy and I am very creative.

thriftycrafter

Awesome Artist





Number of posts

: 12226


Age

: 58


Location

: Kessingland Suffolk


Registration date :

2008-08-30



Great to see everything, and Wow what alot you got done, glad you have a good time and yes you do get your money's worth doing this much.
***************************************

Scatty

Awesome Artist





Number of posts

: 6728


Age

: 61


Location

: back of beyond


Registration date :

2008-08-30



***************************************
___________________________
http://www.search4plates.co.uk/collectable-plates-collectors-browse.asp

supergran

Awesome Artist





Number of posts

: 6732


Registration date :

2008-08-31



---
Permissions in this forum:
You
cannot
reply to topics in this forum